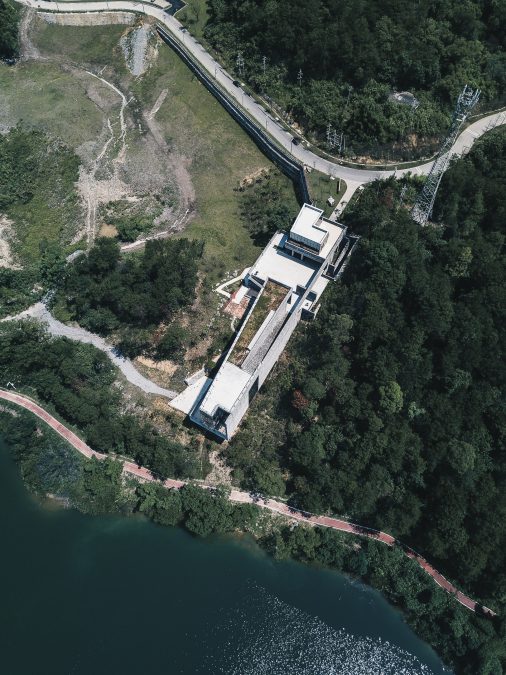 Guanshao City occupies the southwestern of Shaoguan Old Town. Adopted the nature-friendly development concept, it seeks to preserve the original reservoirs, fish ponds, forests, streams, wetlands and other natural elements of Shaoguan, while establishing an innovation-driven platform. Within Guanshao City, Riverside Academy is an important part of the overall cultural landscape.
Riverside Academy & Epigraphy Museum is located at the foot of Tianziling Mountain, the western suburbs of Shaoguan, Guangdong Province. Facing a ribbon of water, the project site provides an excellent sight of the surrounding natural landscape.
To prevent the lush vegetation and complex topography being bothered, we seek to design architecture that intervening environment the least possible. To achieve the goal, we connect two selected points between the waterfront and the mountain forest with the building volume, perpendicularly to the shoreline. Without damaging any of the natural surroundings, the slender building volume appears to be a "plant" that grows from the woods and stretches to the waterfront.
People appreciate the exquisiteness and realism of Lingnan garden. Taking advantages of the design of Lingnan garden, we carve and overlap different units to create elaborate layers of the architecture. In the south side of the building, we separate the architecture volume with brick wall and brick stairs, while the north side is completely open to the landscape.The contrast and connection of this kind of transparency and thickness add extensive details for the architecture, and make it more readable.
The atrium is hollowed out from the center of the building, which, make it an extension of the outside landscape and even a medium for the inside and outside space to communicate.It marries the virtual space, the landscape, and the physical space as traditional"mortise and tenon". Moreover, the sunken courtyard further reinforces this spatial complementary.
The traditional"mortise and tenon" relation exists not only in different parts of the space, but also in the association of different materials. The brick and concrete, two kinds of distinctive fabric, connects and transits smoothly in the façade. In addition, the architecture, facing the water,is designed to be gradually narrowing to look slimmer. The design weakens the sense of building volume, and further, makes the architecture in harmony with the natural surroundings.