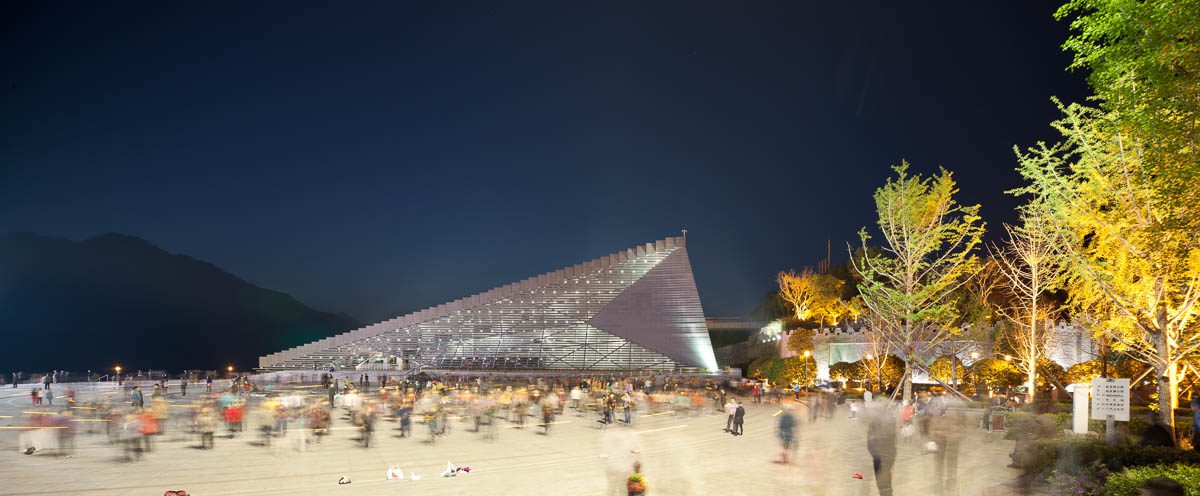 Yunyang Civic Cutural Centre locates at Yunyang, a historic city alongside the coast of the Three Gorges. It is comprised of an architectural interface and a geometrically-shaped square. Taking the form and angle of a dam, it conducts conversations with the water and integrates into the contours of the mountain.
The association of Chinese courtyard has inspired us on the interpretation of Yunyang culture. Nine courtyards are integrated according to the traditional Chinese 3 by 3 square grids. The leaning rooftops of the courtyards, which can be considered as both the upper surface as well as the main facade of the building, stretch into the Yangtze River, filling the gap between the mountain and river. The patios allow lights to diffuse, blurring the line of inside and outside, and create an open-atmosphere city settlement. Meanwhile, the patios, applied differently, make it possible for ever-changing textures to be displayed. Adopting the rooftop form of local area architecture, we create an urban space with historical and cultural context, and pay attribute to the eternal expression of tradition.
Concise and clear logic is implemented from the overall form of architecture to its structure. The outside facades are constructed by ceramic-tube-formed grilles. The spacing between ceramic tubes changes depending on the internal functions and modeling needs, provides shades as well. Facing materials with gray clay plate and terracotta create a simple solid, subtle elegant look, which, is in harmony with the surrounding landscapes.
Yunyang Civil Cutural Centre is a public cultural complex consisting of a 1,200-seat theater, as well as planning exhibition halls, museums, libraries, cultural centers and youth activity centers, 5 floors in total, 24 meters high. People can walk through the building from the mountain to the water's edge and browse the various activities in the building along the way.
Completed in 2012, the project has been widely praised by the public. People dance and even take wedding photography on the Square. It has become the new iconic space of the city although when the project was announced, quite a few people hold positive opinions towards the design. Perhaps the working sketches we provided were far against their imagination of maybe a fancy or high-tech building. But eventually, the building we designed, a public space with sense of humanity that connects the city and landscape, won the citizen's appreciation.