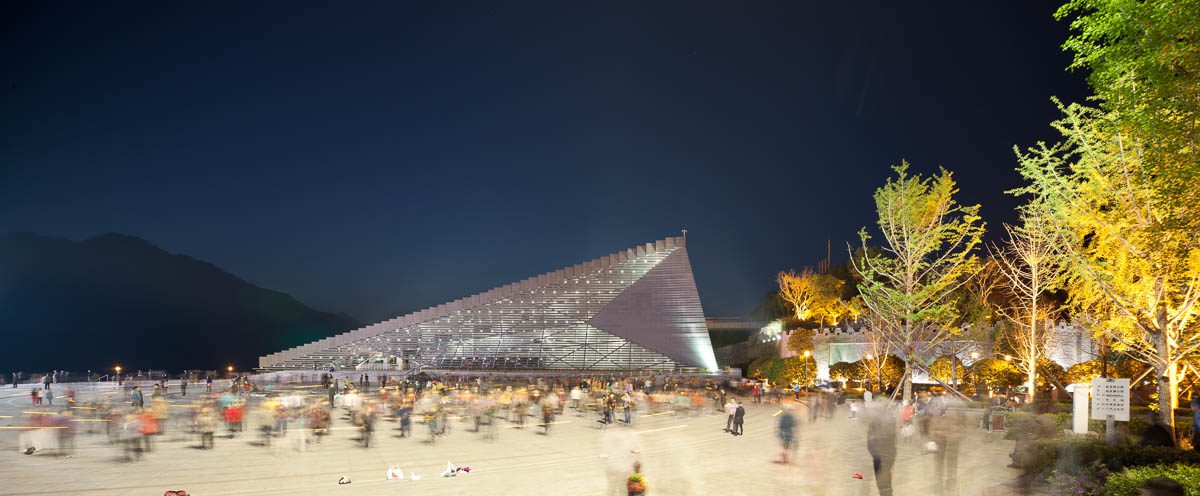 Yunyang Civic Cutural Centre locates at Yunyang, a historic city alongside the coast of the Three Gorges. It interfaces the Long River with its own expressive geometry, while connecting the city with a semi-circular urban plaza. The project relates with the river embankment formally and integrates with the surrounding terrain
The structure of Chinese courtyard has inspired us to program organisation. A 3 by 3 grid introduces 9 courtyards into the building geometry. The leaning form of the building, which can be interpreted both as the roof surface as well as the main facade, stretches into the Yangtze River, filling the gap between the mountain and river. The courtyards allow natural lights to enter the building, blurring the line of inside and outside. Meanwhile, the courtyards with their own unique morphology, creating spatial variety both to the roofscape and spatial experiences within the courtyards. By expressing both the domestic roof type and river infrastructure, the project shows tribute to the tradition of daily lives and the deep historic significance of the Long River.
The project is conceived and constructed with both formal and structural clarity. The exterior facades are constructed by extruded ceramic blocks. The spaces between ceramic tubes vary depending on the internal programs and shading needs. Finishing materials with gray clay plate and terracotta form a simple solid, subtle elegant look, which, is in harmony with the surrounding landscapes.
Yunyang Civil Cutural Centre is a public cultural complex consisting of a 1,200-seat theater, as well as planning exhibition halls, museums, libraries, cultural centers and youth activity centers, 5 floors in total, 24 meters high. People can walk through the building from the mountain to the water's edge and browse the various activities in the building along the way.